We're now into week 3 of our little turnip experiment.
Previous weeks if you missed them:
We've had a couple of changes in who's participating - you can see from the graph. Note that I've left out anyone who didn't put most of the prices in, as the line would just be a couple of dots.
This week, I also started giving people access to edit their own prices, which saves me a lot of manual work.
So, how did we do?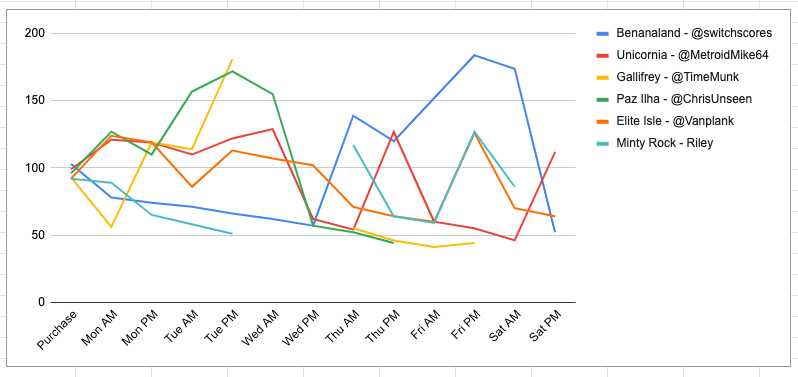 The main problem this week was that four of us had shop closures - one on Wednesday, two on Saturday, and one on Sunday (my island - so no disruption here). Saturday is a really bad day for the shop to close, as it's your last chance to sell turnips without going elsewhere. This group can help with that, but I can't help thinking the game should only allow the shop to close on a Sunday for renovations.
As for the prices: after a slow start, my island - Benanaland - had the highest prices this week, peaking at 184 on Friday PM, and 174 on Saturday AM. I was surprised to see this so late in the week. Naboombu (not on the sheet) also hit 184 on Tuesday AM, but unfortunately we don't know the rest of the prices as they weren't filled in. Shame!
A couple of other islands hit similar peaks during the week: Gallifry reached 181 on Tuesday PM; Paz llha had a run of 157, 172, 155 from Tuesday AM to Wednesday AM.
Here's a link to all of the prices if you'd like to have a look. Now that there's a couple of weeks of history, you'll need to use the tabs at the bottom to see previous weeks.
Week 2 profit report
I did well this week, as I found a friend in a WhatsApp group who had a good price earlier in the week. My return was therefore as follows:
Purchase price: 103
Turnips purchased: 500
Total investment: 51,500
Sale price: 416
Total sale: 208,000
Profit: 156,500 (over 300%)
Week 3 investment
Going into week 3, and having bought 500 turnips for the last 2 weeks, I'm going to invest a bit more this week.
Purchase price: 94
Turnips purchased: 1500
Total investment: 141,000
How did you do last week? What's your investment this week?